CONTACT INFORMATION

Marian Thier can be reached at
303-440-1278 or mjthier@xtho.com
Expanding Thought, Inc. is
based in Boulder, Colorado.

Coaching can occur in person or via
other communication means.
Coaching tools developed by Marian


"We want to thank you for your hard work and dedication to the success of the CLFP. It could not have been done without your help. guidance and support." – Colorado Leadership Foundation Program
"Thanks for the GREAT coaching.  To the point, on target, practical, inspiring, clear, concise, and moves to action." – Bill Molloy, President, Molloy Associates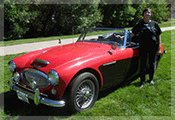 HOP IN!